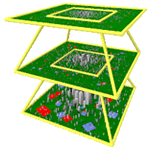 AlphaWorld Mapper

View Map >
How to use AlphaMapper
AlphaMapper uses the familiar Google Maps interface. To move the map, click the map and drag it. The scrollwheel may be used for zooming in and out. To teleport to a specific map location, double click the location to center the map, and then click Teleport. To view a specific map location, enter in the coordinates and click "Go To".
AlphaMapper contains all objects built before November 21st, 2008.
---
Project Information
AlphaMapper is an advanced replacement map for AWMapper. Unlike AWMapper, AlphaMapper supports a multitude of Active Worlds building features (including action commands), as well as key graphical effects offered by the raytracing backend.
AlphaMapper represents years of work to recreate AlphaWorld models in a format which can be rendered with a raytracer. The map creation system allows distributed parallel map rendering among multiple computers, as well as advanced features to track map changes between property set dates.
AlphaMapper's feature set includes:
"Animate" command
"Color" command
"Move" command
"Picture" command
"Rotate" command
"Sign" command
"Texture" command
"Visible" command
3-axis rotation
Proper support of object transparency
---
Project Personnel
AlphaMapper represents the culmination of years of work by the following individuals:
| | |
| --- | --- |
| | Ima Genius |
| | RoadKill |
| | RoadKill |
| | RoadKill |
| | RoadKill |
| Distributed computing engineer: | Ima Genius |
| | Ima Genius |
| Rendering hardware provided by: | ImaTowns |
| Google Maps API interfacing: | Byte |
In addition, ImaBot is very grateful for help from the following community members:
| | |
| --- | --- |
| Information webpage layout: | Joeman, Syntax, Abbot Pabisoko, Byte, and Agent1 |
| | Active Worlds |
| | Flagg |
---
AlphaMapper Statistics
| | | | |
| --- | --- | --- | --- |
| | November 21, 2008 | January 29, 2008 | August 15, 2007 |
| | 200,991,098 | 195,413,500 | 191,607,496 |
| | 14 days | 13 days | 14 days |